October is a perfect time of year for a Halloween themed family movie night. We have been waiting for Hotel Transylvania to be released on DVD and were so excited to enjoy a Halloween family movie night. Check out what we thought of the movie and a few fun ways to plan your Hotel Transylvania 3 family movie night.
Check out this movie review of Hotel Transylvania 3. This post is in partnership with Sony Pictures Animation. All opinions are 100% honest and my own.
Hotel Transylvania 3 Spoiler Free Details
Hotel Transylvania 3 is back with an all new adventure and the same fun characters we enjoyed in Hotel Transylvania & Hotel Transylvania 2. This time Dracula, Mavis and their family and friends are headed leaving the hotel for a vacation of their own- a family cruise!
The family heads out for some quality family time but Dracula ends up falling for the cruise director, Ericka, who has a mysterious and possibly dangerous secret. It is up to the family to work together to solve the mystery and keep each other safe.
Check out the Trailer:
Family Review of Hotel Transylvania 3
We were all very excited for the third installment of the Hotel Transylvania movie. The characters are funny and it is a family friendly movie we can all enjoy. Hotel Transylvania 3 followed the same theme of fun and silliness that is a good fit for all ages.
I really liked that this is a great movie that the entire family can enjoy. There are not many scenes that would be frightening to children and the music is a fun addition to the story. The kids liked the characters and I found it to be a great start to our Halloween movie nights.
As a mom I am always looking for a lesson and the heart of a movie and I loved that Hotel Transylvania 3 focused on family. Throughout the movie the importance of family time can be seen throughout and the friends and family are kind and loving to each other. I think Hotel Transylvania 3 is a great pick for a Halloween movie night with your family.
Hotel Transylvania Family Movie Night Ideas
Adding a little more fun to your Hotel Transylvania 3 movie night is easy this time of year. We visited the bulk food section of our local grocery story to pick some scary worms and spider treats. I also picked up Halloween themed plates and cups at our local store for a dollar. Here are a few more activities to make a fun family movie night.
Make Drac's Spooky Smoothie. (click image below)
Pick up Halloween treats and snacks.
Have a movie marathon and watch Hotel Transylvania & Hotel Transylvania 2.
Spend the day at the pumpkin patch and come home to carve them like your favorite Hotel Transylvania 3 characters. (click image below)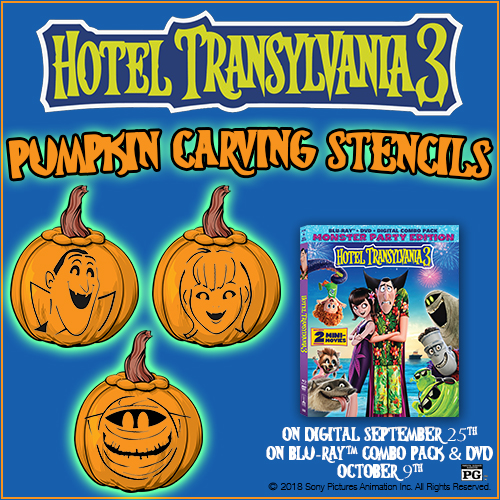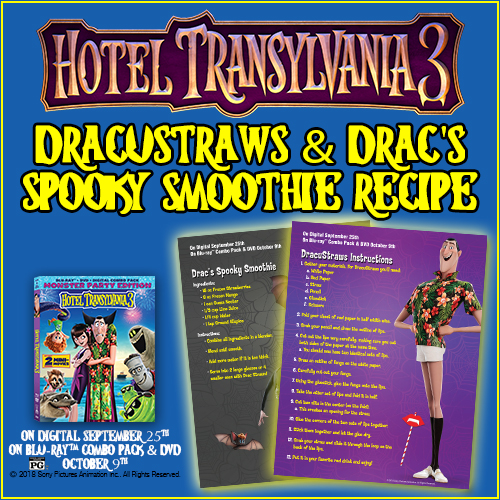 Be sure to check out all the awesome and fun bonus features.
Three all new Scary-Oke Sing Alongs
Plan your own Spook-tacular Sleepover
Vampire Make-Over Tutorial
Behind the Screams-The Voices of Hotel Transylvania 3
Johnny's Home Movies
I See Love Monster Dance Party
Drac's Zing-tastic Read Along
Two Mini-Movie
Hotel Transylvania is rated PG
Hotel Transylvania 3 is available September 25 on Digital and October 9 on Blue-Ray and DVD. 
We really enjoyed Hotel Transylvania 3 and it made for a great family movie night.
More Posts You May Like: