Art of Animation Resort is a value resort located at Walt Disney World. It is located in the World Wide Sports Area and is part of the value resorts. Today we are sharing our Disney Art of Animation review to help you decide if the Art of Animation resort is a good fit for your family.
From the moment you step inside the lobby of Art of Animation you are surrounded by the creative designs of some of Disney's best animated movies.
The four movies that the Art of Animation resort is themed around are: The Little Mermaid, The Lion King, Cars, and Finding Nemo. There is something to love about each of the areas and you will find something special at each area of the resort.
Art of Animation resort has been on our families list of places to stay at Walt Disney World since it opened in 2012. Our first family visit we had a room booked but had to change it when we found a great special offer at Pop Century resort. We really enjoyed our stay at Pop Century and we always try to save money when we can on vacation, but I couldn't wait to try Art of Animation resort on a future trip.
We finally had our chance to stay at the resort and I was so excited. I love everything about Disney and the imagination that goes into planning their resorts. I couldn't wait to check it out!
How to Decide on Accommodations when Traveling with Kids
Room Size and Sleeping Situation-There are 5 of us and we need enough space.
On-Site Entertainment- Pools & Daily Kid Activities
Food-Where to Eat and Is it Kid Friendly
Extras- Parking Fees, Transportation, etc.
All of the criteria above help me decide if the resort will be a good fit for my family. I do this for every place we stay when we are planning a family trip. I like to be prepared and make sure it will work for my family.
Disney Art of Animation Review
Art of Animation Resort Rooms and Suites
Art of Animation resort has two types of rooms: Standard Rooms and the Family Suites.
The Standard Rooms are all themed with The Little Mermaid and will fit up to 4 people.
The Family Suites are themed to Finding Nemo, Cars, and The Lion King. These rooms fit up to 6 people. The Finding Nemo rooms typically cost the most because they are close to the lobby and the main pool.
Art of Animation Little Mermaid Rooms (Standard Rooms)
The Little Mermaid Rooms have two double beds or one king bed and can fit up to 4 people. They are located in The Little Mermaid area of the resort. This area is the farthest from the lobby but there is a parking lot close. Each area has a parking lot so you do not need to carry all your luggage through the entire resort.
The Little Mermaid area also has its own pool. We liked this pool because it was quiet and big enough for the kids to play. The area is also surrounded by Little Mermaid characters and is fun to explore.
Disney Art of Animation Family Suites
There are three different Art of Animation Family Suites. They are Finding Nemo, The Lion King, and Cars. All of the family suites at the Art of Animation resort can accommodate up to 6 people. There is a bedroom with a queen bed, two bathrooms, a pull out sofa, and a murphy bed. We stayed in the Finding Nemo area and loved the theme of the room.
Art of Animation Finding Nemo Family Suite Details
Largest Pool
Playground
Splash Pad
Close to Lobby
Busiest Pool
Music is Played Under Water at the Pool!
Rooms are themed to the characters from Finding Nemo.
Typically cost about $10 a night more than the other suites.
Art of Animation Cars Suite Details
Short walk to lobby
Fun Cars photo-ops throughout the area.
Best themed area of resort.
Pool has cabanas that are on a first come first serve basis.
Smallest pool at resort.
Art of Animation Lion King Suite
Short walk to lobby.
No pool.
Fun play areas.
When deciding what room to stay in it really comes down to personal preference. You can't go wrong with any of the rooms. Your kids will love them all!!
If you have a kid who loves The Lion King  stay there. Is there a princess in your family? The Little Mermaid room would be a great fit. You can explore any area of the resort and use all the pools and playgrounds so there is no wrong choice!
Art of Animation Resort Food & Entertainment
Landscape of Flavors at Art of Animation
Art of Animation has a main quick service eating area called Landscape of Flavors. It is one of the best quick service restaurants on Disney property and is easy for families that want to grab a quick bite or order a pizza after a long day at the parks. There is not a sit-down restaurant on property.
Entertainment at Art of Animation
During check-in you will receive the guide to what is going on daily at the resort. Most days there are fun games at the pool in the afternoon and nightly outdoor movies are shown. You can also learn how to be an artist with lessons in the lobby or spend time at the arcade.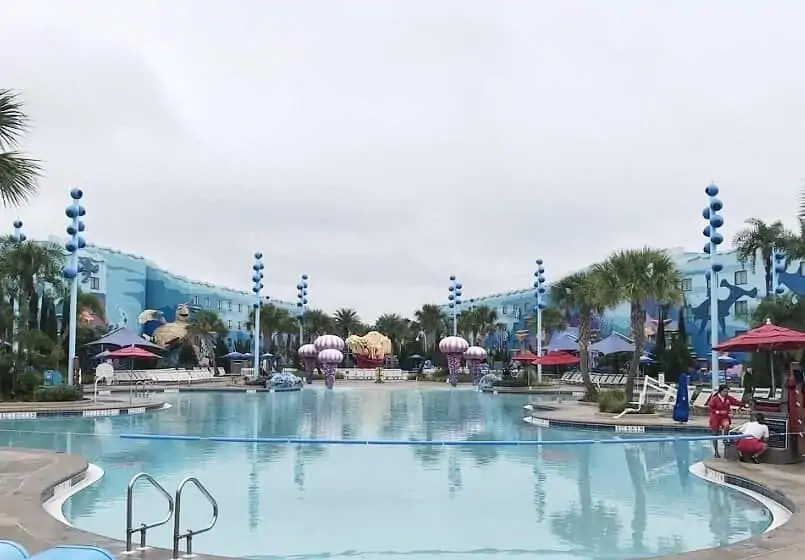 Our Art of Animation Resort Video:
Things to Know About Disney's Art of Animation Resort
Standard and Family Suites available.
Most expensive of the value resorts.
Best Disney themed resort on property.
As of March 21, 2018 all Disney resort guests will be charged a nightly parking fee. Art of Animation fee is $13.00 a night.
You do not need to stay at the resort to visit and are welcome to eat and explore the resort. Only guests staying at the resort can use the pools.
All guests can use the Disney Bus Transportation to and from the theme parks, water parks, and Disney Springs.
Gondola transportation is available via the Disney Skyliner to Epcot and Disney's Hollywood Studios.
Overall our Art of Animation review is that it is a wonderful resort with incredible theme for kids. It is on the higher end of the value price but we enjoyed our stay and would stay again.
More Walt Disney World Posts: