This one day at Disneyland itinerary will help you plan the best day at Disneyland in California. With tips to maximize your day at the park and see all the best rides and attractions our itinerary for Disneyland in one day is great for your next Disneyland vacation.
Visiting Disneyland in one day is possible with some planning before you arrive at the park.
We had plans to visit Disneyland as part of our 9 day Southern California theme park itinerary and we couldn't wait to visit the parks again. In 2019 we visited Disneyland and California Adventure in one day but we were looking forward to a slower pace at the parks.
For this visit we decided to plan 4 full days at the parks. We decided to not get a park hopper ticket and focus our days on one park a day. This meant we had 2 days at Disneyland and 2 days at California Adventure.
Most people recommend a park hopper at Disneyland in California because it is very easy to walk between the parks but we wanted to focus on one park each day. This allowed us to not feel rushed and enjoy the ambiance of each individual park.
We planned one itinerary for Disneyland and one itinerary for California Adventure and used it on both visits. The first day gave us a chance to test it and on day two we could tweak it to work even better.
Of course there were a few hiccups along the way and theme park days are often unpredictable, but we were able to ride the most popular attractions multiple times and it was a successful visit.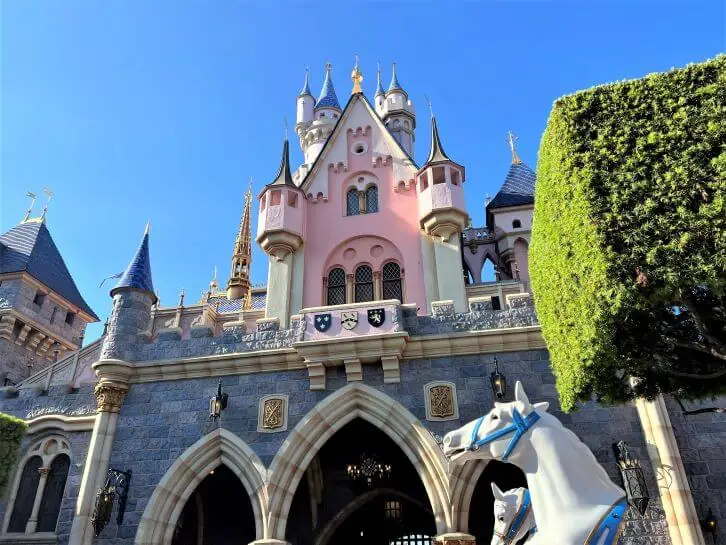 How to Plan One Day at Disneyland
Disneyland Tickets and Genie+
The first thing you need to do when planning a day at Disneyland is purchase your tickets.
After you purchase tickets you must reserve your park day. Guests must have a ticket and theme park reservations to enter park. Do not wait on this. During busy seasons park reservations do run out.
The second thing you should decide on is if you would like to add Genie+ to your tickets. Genie+ is the ride reservation system that allows you to reserve an attraction using the Disneyland app at a specific time to shorten your overall wait time at the park.
Genie+ cost $20.00 per person/per day. We used Genie+ on all of our days at the park and I am glad we did. Our visit was in July, one of the busiest times to visit, and the wait times were high most of the day. Genie+ allowed us to ride more attractions and maximize our day at the park.
There are three things to understand about Genie+ at Disneyland. Genie is the basic ride tip board on the Disneyland app and it is free to use. We have never used it and it makes suggestions for your day. It doesn't reserve anything.
Genie+ allows you to make reservations for certain attractions at different intervals throughout the day. This is a paid service and guests can go through the Lightning Lane line when they have booked a Genie+.
There are also Individual Lightning Lane for purchase. These attractions are not included in Genie+ and have a one time purchase fee ranging from $12.00-$20.00 a person. We did not use the Individual Lightning Lane during our visit.
I go into more details of how we used Genie+ during our one day at Disneyland plan later in this article.
Genie+ Attractions at Disneyland
Autopia
Big Thunder Mountain Railroad
Buzz Lightyear Astro Blasters
Haunted Mansion
Indiana Jones Adventure
"it's a small world"
Matterhorn Bobsled
Millennium Falcon: Smugglers Run
Roger Rabbit's Car Toon Spin
Space Mountain
Splash Mountain
Star Tours: The Adventure Continues
Individual Lightning Lane: Star Wars: Rise of the Resistance
Space Mountain and Indiana Jones are some of the most popular and the genie+ times will start to run out as you get later in the day. For example around 2:00pm you may be booking a return time for 8:30pm-9:30pm. By 4:00pm they may be gone. You will be able to monitor this on the app and watch as you go through your day.
Learn the Layout of the Disneyland Park
If you have visited the Magic Kingdom at Walt Disney World you can expect a few of the same attractions and basic layout but there were a few things that took some getting used to for us.
The park is much smaller than the Magic Kingdom but packs more attractions in. Usually I will use the castle as a landmark and this helps me know where we are going. At Disneyland the castle isn't as tall and using it as a landmark didn't work as easily.
Disneyland is divided into different lands with Sleeping Beauty's castle in the middle and each land going out of the central hub. Guests will enter the park at Main Street U.S.A and from there decide which land to explore first.
The lands are Tomorrowland, Fantasyland, Mickey's Toontown(Under construction until 2023), Frontierland, Star Wars: Galaxy's Edge, Critter Country, New Orleans Square, and Adventureland. I suggest taking a look at the map on the Disneyland app before you arrive to get a basic understanding of where you want to go.
Prioritize Your Day at Disneyland
Disneyland has a lot to do and there will most likely be something you will miss with a one day visit. It is important to prioritize what is important to you and plan your day around those attractions.
On our first visit to Disneyland in 2019, we did rides that are not at Walt Disney World or rides that are different but the same attraction, like Pirates of the Caribbean. Both parks have this ride but they are different at each park.
You should have a basic idea of the top 5-10 things you want to accomplish. We always suggest rope drop on our visits to maximize time at the park. Rope drop is arriving before park opening. This does mean you have to wake up early but it will keep you ahead of the crowd for the first hour or two of the day.
When we rope drop we plan time back at our hotel to rest and then return in the evening. We also talk about what everyone wants to do for the day to make sure everyone's rides are at the top of our priorities.
Understand Who You are Traveling With
When planning your Disneyland day consider who you are traveling with. If you have very young kids you will spend a lot of time in Fantasyland. If you have teens the big thrill rides like Space Mountain and Indiana Jones will be on your list.
Have a Plan but Keep it Flexible
I am a big planner and like to have our family travel itineraries planned out in advance but I always go into it knowing things will change. We had a few issues on our most recent visit that made us go to plan B.
Try to be flexible and don't let it derail your day. You make a plan to be prepared but going with the flow is really important when planning a Disney day.
One Day at Disneyland Itinerary
We did have two days to spend at Disneyland but we wanted to ride our favorite attractions more than once so both days bascially had the same layout.
Day 1 was definitely more chaotic than day 2 as we learned the park and what worked, and what didn't when it came to planning our day. Below you will find our Disneyland one day itinerary part 1 and part 2.
Disneyland Itinerary for One Day (Part 1)
6:50am: Leave our hotel to make the 7 minute walk to the Disneyland entrance. We stayed at the Courtyard Marriott Anaheim Theme Park entrance. Arrive at the security check line.
7:15am: Security Line opens and allows guests to line up at the ticket entrance.
7:30am: Gates opened and guests were allowed into the park. Main Street U.S.A. is open but all attractions open at park opening, which was 8:00am during our visit.
Once inside the park you want to purchase Genie+ if you are planning to and haven't already. Be sure to purchase for everyone in your party.
A word about Rise of the Resistance. If you are purchasing an individual lightning lane for this attraction you should do it as soon as you enter the park. If you are planning on riding in the stand-by line you should rope drop or hop in line late in the evening. Rope drop is the busiest time for this attraction.
We didn't ride it during our visit because we have done it numerous time during our visits to Hollywood Studio.
8:00am: Park open! We headed straight to the classic Fantasyland rides and did them in this order: Alice in Wonderland, Mr. Toads Wild Ride, Pinocchio's Daring Journey, and Snow White. We also made our first Genie+ reservation for Indiana Jones at 8:20-9:20am.
Genie+ Tip: You should keep an eye on the redemption times and pick one that is a bit later if you can. You don't want an 8:00am one because the line is typically short, under 20 minutes, and you waste that pass. Genie+ gives you one redemption pass per Genie+ attraction per day. We watched and would modify when wait times were low.
The biggest lesson we learned from day 1 at Disneyland was we were going back and forth, ping-ponging around the park way more than we would like. We used this information to build a better itinerary for day 2.
Depending on the day and crowds you should expect a bit of back and forth at the parks. There isn't much you can do to avoid it if you are trying to get as much done as possible and avoid long wait times.
8:29am: Canceled Genie+ for Indiana Jones because the wait was short. Rode Pirates of the Caribbean. Made Genie+ for Space Mountain at 9:40am-10:40am.
9:17am: Haunted Mansion stand-by. This is where we went wrong. We should have gotten a Genie+ for Haunted Mansion but we thought the line was under 20 minutes. It ended up being much longer. We didn't get out of the ride until around 10:00am. Definitely will do this different on day 2.
10:00am: At this point we headed over to Space Mountain to use our Genie+. As soon as you scan in for your pass you can book another one. So we booked a Buzz Lightyear for 10:35-11:35. After we got off Space Mountain we walked over to Buzz. Guests can enter 5 minutes before their Genie+ window.
10:45am: Mobile order lunch at Alien's Pizza Planet while in line for Buzz. We always mobile order at the Disney parks whenever possible. A lot of locations have this and it saves you time. Check the app to see where it is available.
11:00am: Lunch at Alien's Pizza Planet. Secure Genie+ for Matterhorn Bobsleds at 11:45am-12:45pm. Lunch was fine. Kids liked the pizza. I ordered a kids spaghetti and it was a very small portion. I have always ordered kids meals because I prefer to eat lite on theme park days but this was a very small portion.
11:20am: Walked over to Sleeping Beauty's castle to do the walk through exhibit inside the castle. This is unique to Disneyland and a nice area to check out. From there we walked over to Matterhorn for our Genie+. Then we made a Genie+ for Splash Mountain at 4:50pm-5:50pm.
Our plan was to go back to the room to rest for a bit. The crowds were busy and it was hot. Genie+ can be booked in 2 hour intervals when not being redeemed. So because I booked our Splash Mountain around 12:00 I could book another one at 2:00pm in our room.
We stopped at Great Moments with Mr. Lincoln before exiting the park and walking back to our hotel.
At 2:00pm I booked Indiana Jones for 5:50pm-6:50pm. Then I was eligible to book another at 4:00pm. I booked Big Thunder Mountain for 6:50pm-7:50pm. This is the best way to stack them in the evening if you are planning on a rest during your day.
4:00pm: Walked back to Disneyland. Rode Winnie the Pooh and then used our Genie+ for Splash Mountain. At that time Splash Mountain had a 120 minute wait. We were in line for 17 minutes because of our Genie+ reservation.
5:26pm: Dinner at Rancho del Zocalo. There is not mobile dining available at this location so you have to go up to the counter. Portions are huge and it is a great spot.
6:00pm: After dinner we headed over to use our Genie+ for Indiana Jones and then Big Thunder Mountain. We secured a Genie+ for Millenium Falcon and rode "it's a small world".
8:30pm: Around 8:30 we were lucky to find a spot to watch the Main Street Electrical Parade. We sat near the end of it's a small world and found a spot to stand. Some people lay blankets down early and wait for the show hours before.
9:20pm: At this point we went over to Galaxy's Edge to ride Millennium Falcon. We also could see the park fireworks from Galaxy's Edge after we rode and it was really nice.
Then we decided to mobile order Jolly Holiday to pick up a treat to take back to the room. It was a good day during the busy season and I knew I would tweak a few things for our itinerary at Disneyland day 2.
1 Day Disneyland Itinerary (Day 2)
6:50am: We started our second day at Disneyland the same as the first. Started the 7 minute walk from the Courtyard to Disneyland around 6:50am. Waited at security until around 7:15am. Let into the park around 7:30am.
8:02am First to ride Alice in Wonderland. Went to ride Mr. Toad's Wild Ride but it wasn't open yet so we pivoted to Pinocchio's Daring Journey, then back to Mr. Toad, then Snow White's Enchanted Wish.
8:26am: Storybook Canal Boat. This attraction is a slow moving boat ride and I don't really recommend it to start your day but we wanted to avoid Fantasyland after the morning due to the very busy crowds so we decided to get it done. Secure a Genie+ for Indiana Jones.
We had a two part strategy for our morning. One we didn't want to ping-pong all over the park like our first day. We wanted to be smarter about our plan. Two we wanted to ride the non-genie+ attractions in the early morning.
There were also a few rides we didn't include into our itinerary. Peter Pan, Dumbo, the Carousel, and the tea cups didn't make our list. If you want to include them consider the first hour of park opening or later in the evening. Be aware that some Fantasyland attractions close during the fireworks.
9:00am: Ride Indiana Jones. Then Splash Mountain. We tried Pirates but it was closed as we walked by so we continued to Splash Mountain. Early in the morning Splash Mountain is less busy but assume you will get wet. While in line for Splash Mountain we got a Genie+ for Haunted Mansion.
10:00am As soon as I got in line for Haunted Mansion we secured a Genie+ for Space Mountain at 12:50pm-1:50pm. Haunted Mansion had a malfunction and before we boarded the ride the power went down.
We had to exit the line and cast members gave us a multiple experience pass. This allows you to enter certain attractions using the lightning lane without making a timed reservation. If an attraction closes during your Genie+ reservation you will automatically receive a multiple experience pass. This happened each of our days at California Adventure too.
10:38am: Mobile order lunch at The French Market. Be sure to also mobile order beignets at the Mint Julep Bar. These are in the same sitting area and delicious. After lunch we got on the Disneyland Railroad and then headed back to the Haunted Mansion to ride.
12:15pm: Tiki Room. This is not a must see for us but we decided to give it a try and rest our legs in the AC for a few moments. We also had time before our Space Mountain Genie+.
12:40pm: Space Mountain. Then booked a Genie+ for Big Thunder Mountain at 4:45pm-5:45pm. There were times when I booked our Genie+ as soon as I checked in and other times I waited a bit because I was looking for a specific return time. You do not get to choose from different times and basically have to take what is available. Because of this we would constantly check the app to see if times refreshed or find the time we wanted.
1:40pm-4:30pm Rest back at the room. While at the room I reserved Genie+ passes every two hours. When we returned for the evening we had three genie+ passes scheduled. At times it can be confusing as to when you can make your next pass. If you forget you can go on the app and go through the process of making one. The app will tell you the exact time you can make your next one.
5:00pm: Big Thunder Mountain, Winnie the Pooh, Splash Mountain, and Hungry Bear for dinner. We used mobile order for this.
7:00pm-9:00pm: After dinner we headed over to "it's a small world" then Galaxy's Edge. After Galaxy's Edge we did Buzz Lightyear and Star Tours followed by Jungle Cruise at Night and a final ride on Pirates of the Caribbean. We were able to get immediate genie+ for Buzz and then Star Tours allowing us to bypass the long lines.
When using Genie+ there are two basic rules: You can make one, use it, make another and/or every two hours. This got a little unclear once we had three booked in the evening and cast members didn't really know how the rule worked when applied to using one of three.
This is when it is very important to check on the app when you can book your next one. Doing this allowed us to book and use then book again, as well as stack a few reservations during our day at Disneyland.
At that point we were exhausted and decided to make our way back to the hotel. I hope this Disneyland in one day itinerary helps you plan your day to have the best time on your Disneyland vacation.