Are you planning one day at California Adventure at the Disneyland Resort? This California Adventure itinerary is perfect to help plan your day at the Anaheim theme park.
The Disneyland Resort in Anaheim California is home to two theme parks: Disneyland and Disney's California Adventure park. They are within close proximity to each other making it easy to visit both Disneyland parks in one day.
For this post I want to share how to plan one day at California Adventure. On a recent visit we spent two full days at testing out our California Adventure itinerary to see what works best and how to include the most popular rides and attractions.
Although it is easy to park hop between Disneyland and California Adventure, I find it easiest to plan your first time visit to Disneyland with a focus on one park a day.
We planned 4 days at the Disneyland Resort on our most recent visit and I enjoyed being able to spend time at one park for each day. Read our full trip report: 9 Day Southern California Itinerary for Your Theme Park Vacation
One Day California Adventure Plan
Before you arrive at the park you need to do a few things. The first thing you need to do is buy tickets and make your park day reservations. You should also become familiar with the rides and attractions at the park and decide what your must do things are.
Disneyland California Adventure Tickets and Genie+
Start at the Disneyland website to find what current pricing and special offers are available.
Once you purchase your tickets download the Disneyland App and connect your tickets to your account. From there you should book your specific dates for visiting. Guests must have a ticket and reservation when visiting the parks.
Genie+ Attractions at California Adventure
Genie+ is the add-on line skipping Disneyland offers. This can be purchase for $20.00 per person/per day in addition to your ticket. It allows guests to reserve a time to ride selected attractions during their day at California Adventure.
Guests will enter through the Lightning Lane to bypass the stand-by line. Some attractions require an individual lightning lane to ride. These are not include in the Genie+ attractions and cost $10.00+ to purchase.
Radiator Springs Racers (Individual Lightning Lane)
Web Slingers: A Spider-Man Adventure (Individual Lightning Lane)
Goofy's Sky School
Grizzly River Run
Guardians of the Galaxy-Missions: BREAKOUT!
Incredicoaster
Monsters, Inc. Mike & Sulley to the Rescue!
Soarin' Around the World
Toy Story Midway Mania!
If you are going to purchase Genie+ take a moment to read through and understand how it works. This will help you maximize your purchase. Learn more here.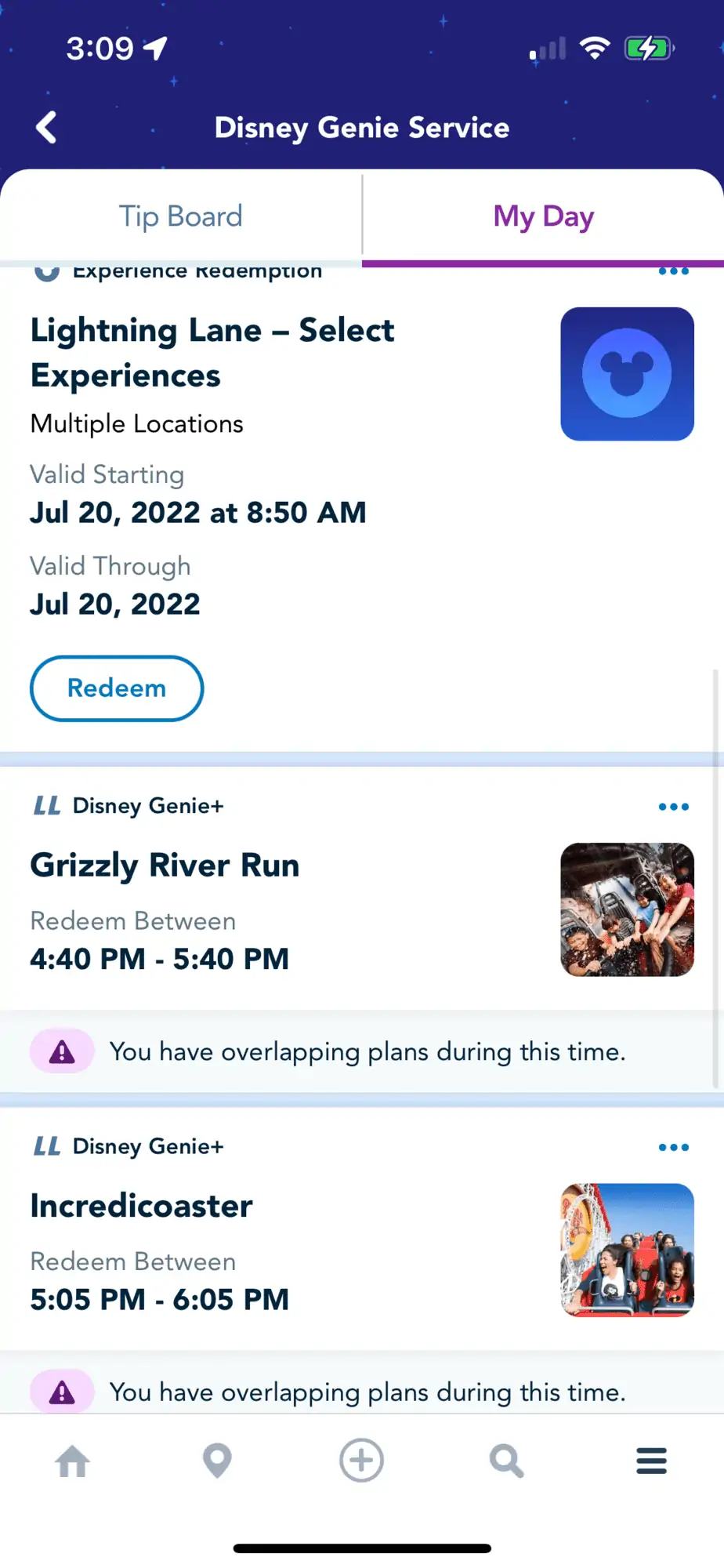 Things to Know When Planning 1 Day at California Adventure Itinerary
Layout of California Adventure
California Adventure is not a very large park and it is easy to learn the layout once you take a look at the map. It is organized by lands and areas. They are Avengers Campus, Cars Land, Pixar Pier, Hollywood Land, Paradise Gardens Park, Grizzly Peak, and Pacific Warf. Check out the Disneyland California Map to get a better understanding of the layout.
Prioritize Your 1 Day at California Adventure
You can successfully do everything at California Adventure in one day. Although there may be a few attractions you might skip over or miss.
For example we didn't see the Disney Junior Dance Party! because my kids are older and it wasn't a priority. Plan your day based on the interests and ages of your kids. Research what rides are best for the people you are traveling with and plan your day accordingly.
Always check the refurbishment calendar before you visit the parks.
Below you will find 2 one day itineraries for California Adventure. I find it important to share both one day itineraries with you to give an example of how you should be flexible with your plans and be ready to pivot at a moments notice.
We followed the same plan for both days but things change and we had to be flexible with it.
California Adventure Itinerary for 1 Day (Part 1)
6:45am: Leave hotel for walk to Disney California Adventure. We stayed at the Courtyard Marriot Anaheim Theme Park Entrance.
8:04am: In the pre-show for Web Slinger: Spider Man. It takes time to go through security and the gates. Typically the gates open 30 minutes before park opening and they hold you near the entrance before allowing guests to fully enter the park.
8:20am: Guardians of the Galaxy: Mission-Breakout. Off by 8:34am. Our strategy for our day at California Adventure was to ride the most popular attractions in the first few hours of park opening and then book Genie+ later in the day. This allowed us to ride the best rides 2x or more.
8:30am: We loved Guardians so we did it again. During this time we also started checking the app for wait times and Genie+ times. If you want to maximize rides you need to be on the app. I don't love this but I don't love waiting in long lines more so it is worth it to keep our day moving.
9:15am-10:30am: Incredicoaster, Toy Story Mania!, Make first Genie+ for Soarin', Ride Goofy's Sky School
10:30am: Ride Soarin' using Genie+ time. As soon as you scan book your next Genie+. We booked for Incredicoaster between 11:05am-12:05am. Once inside the Soarin' building the WiFi is spotty so try to secure this fast.
Genie+ Tip: Our strategy was to ride the most popular attractions, with the exception of Radiator Springs, standy-by for the first two hours of park opening. Then we planned to book Genie+, use it, book again. The rule for Genie+ is you can book as you use or every two hours.
For example: If I book a genie+ at 8:00am for 8:15am, I can book another one as soon as I scan in. If I book a genie+ at 8:00am for 11:30am, I can book my next one at 10:00am. This is helpful to understand in the afternoon and allows you stager your genie+ reservations.
In the afternoon when we took a break I booked a Genie+ at 1:00 for 5:00pm. At 3:00pm I booked my next Genie+ for later in the evening. This is a way to stack your reservations if you want to take a mid-day break.
Please note that you can only make one genie+ reservation per ride per day. You can't make multiple Genie+ reservations for The Incredicoaster. Once you make one you have to ride the stand-by or single rider line.
11:15am: Ride Incredicoaster, Watch Spider Man show as we walk to Pym's Test Kitchen for lunch.
11:45am-12:15pm: Mobile Order Pym's Test Kitchen. This can be done through the app and will save you time waiting in line. We really liked the food at Pyms and ended up having meals there both days we visited the park.
At 12:00pm I went on the Disneyland app to join the virtual queue for World of Color show at night. This gives you priority viewing entrance and is at no extra charge. If you can I suggest seeing this show. It is really good!
I also made a Genie+ reservation for Monster's Inc. at 12:30pm-1:30pm. We had a little time so we went to watch Mickey's Philharmagic. Then headed over to Monster's Inc.
12:45pm: Scanned into Monster's Inc and made our next Genie+ for Grizzly River Run for 2:45pm-3:45pm. Then we headed over to the Animators Academy building.
This is a really cool area to explore and cool off on a hot day. You can find Sorcerer's Workshop and Beasts Library as well as the Animation Academy classes. These are free drawing classes that you are offered throughout the day.
You can look at the board to see who they are drawing and at what times. We drew Mike from Monster's Inc. and Mirabel from Encanto.
After that we headed over to the Redwood Creek Challenge Trail to spend time before our next Genie+. This is a playground area that is great for the under 12 crowd. It is still nice to walk around and there is a Raya meet and greet. We also saw Chip n Dale walking around the area greeting guests.
Then we walked over to the Pacific Wharf to do the bakery tour. Guests are treated with a free piece of bread after this walk through. It is only a few minutes and there is not a line to wait.
At this point it had been 2 hours from making our last Genie+ so we made our next one for Guardians of the Galaxy: Mission-Breakout.
3:00pm: Ride Grizzly River Run. Cars Land for Mater's attraction. Guardians of the Galaxy Dance Party, Made Genie+ for Toy Story Mania!, Ride Guardians, Watched Avengers Show on the way to Cars Land.
Tip: As you can see we did a lot of back and forth through the park. It is very difficult to not back track. Be prepared to walk or wait in longer lines.
4:30pm: Rode Radiator Springs in using the single rider line. Both days at the park we had a bad experience with Radiator Springs. It seemed to breakdown each time we got in line. My daughter also rode with some questionable people who were vaping while she was on the ride. This is the risk you take when single riding, although in hind sight I should have said something to a manager.
If you want to ride Radiator Springs you must rope drop (ride at park open), purchase an individual lightning lane, use single rider line, or wait. The lines were almost 2 hours throughout the entire day of our visit.
6:00pm: Dinner at Lucky Fortune in the Pacific Wharf. Then Toy Story Mania! and Guardians again!! It was by far our favorite ride. We also had a ride anytime pass that was given because a ride broke down during our assigned time.
We had this happen often during our visit. Keep in mind that some attractions are not on the list to use. Our Toy Story Mania Genie+ time was when the ride was not running so the app automatically assigned a Multiple Experience Pass. This can be used on any listed attraction, read the fine print, at any time. No need to make a reservation.
8:15pm: We headed over to Paradise Pier and rode the attractions with short wait times. Then we found our spot for World of Color show at 9:00pm. We decided to try a spot in the "wet" zone. I don't know if we were just lucky or the wind was low because we didn't get wet at all. There was a small mist at the end of the show but we were really happy we sat there.
We had a front row spot and the show was so good. I had been wanting to see this show for years and it truly did not disappoint.
After World of Color we were exhausted from a full day at California Adventure and we made our way back to our hotel for the night.
1 Day California Adventure Itinerary (Part 2)
We started and planned day 2 much like day one because it was so successful but at park opening we had a big change.
6:45am: Leave our hotel for 8:00am park opening
8:00am: Park opens, start walking to Web Slinger to find out it is closed. Walk to Radiator Springs to find a very long line, Incredicoaster closed, Guardians very long wait time.
8:15am: Pivot plans and go to Monsters Inc. At 8:16am Monsters Inc was showing a 50 minute wait. This was going to be a very crowded day. We used a Genie+ pass immediately for this ride.
8:45am: Grizzly River Run, we did get wet but it had a short line. Then the Little Mermaid Ride
9:00am: Corn Dog snack. To be honest we were super frustrated that so many attractions were closed and the wait times were bad. The Corn Dogs didn't disappoint!
9:10am: Inside Out ride, Toy Story Mania!, Jessie's Critter Carousel, Bakery Tour for a slice of bread. Made a Genie+ for Soarin'
10:10am: Rode Soarin', made Genie+ for Guardians between 12:35pm-1:35pm. We knew based on the crowds genie+ would start running out for popular attractions and we wanted to take a mid-afternoon break.
Mickey's Philharmagic and then lunch at Paradise Garden Grill.
After lunch we headed over to Animation Academy to draw. Don't skip this one even if you think you can't draw. It was very fun.
12:45pm: Used Genie+ for Guardians and headed to hotel for a break. At the hotel I secured Genie+ for Grizzly River Run and Incredicoaster. We also had a select experience one from an early morning breakdown. This happened with Toy Story Mania! both days.
As we were leaving the park I noticed a sign that said the parks were at capacity for the day and no reservations were available.
4:30pm: Returned to the park and rode Grizzly River Run, dinner at Pym's Test Kitchen, stopped to take pictures with the Disney Photographers. Disney PhotoPass is included in Genie+ and I wanted to take advantage of it.
6:00pm-8:00pm: At this point we took our time walking around the park and exploring the shops. It was nice not to be rushed. I also wanted to see Cars Land at night so we walked around that area.
Next we used our Multiple Experience pass to ride Guardians of the Galaxy. That was by far our favorite attraction at the park.
We didn't stay for the shows that night but we did want to try to ride Web Slingers again before we left. The line was still pretty long at over 2 hours so we decided to try the single rider line. We got in line at 9:00pm and were on the ride by 9:15pm. If you don't mind getting split up this is a great option.
This one day California Adventure itinerary should help you plan your day no matter what the crowd levels are. We visited in July and the crowds were very high. If you are visiting on a low crowd day you should be able to experience most rides and attractions easily.
We send updates on our latest destination and theme park posts so you never miss a thing and can start planning your next family adventure. We know you are busy and only share the best! Sign up for Five for the Road Newsletters!