This Universal Studios Hollywood itinerary will help you plan your day and see all the best attractions for one day at Universal Studios Hollywood.
This post contains affiliate links and sponsored content. All opinions are my own. Learn more here.
We used this itinerary for Universal Studios Hollywood to plan our day at the park. The layout and attractions are different than Universal Studios and Islands of Adventure in Orlando and we wanted to be sure we experienced all the unique things about this park.
Our priority was to see and do the attractions they don't have at the Orlando parks, but we ended up doing almost all of the rides at the park.
This was our first visit to Universal Studios Hollywood and I definitely had to learn a few different strategies to explore the park. For one they have the Universal Studio Tour which takes almost an hour of your day and is really popular.
The park is also located on a hill and divided into the upper lot and lower lot. As I was planning our one day at Universal Studios Hollywood I factored in all of these things to plan the best day for our family.
Check out our partners for the best deals on theme park tickets, hotels, and attractions to save money on your trip! Theme park tickets, resorts, and car rentals check out Undercover Tourist .
Are you visiting a city and want to research hotels? Check out Booking.com. City attraction and theme park tickets check out CityPass
Things to Know Before Visiting Universal Studios Hollywood
Purchase tickets before you arrive at the parks. You don't want to waste time waiting to purchase tickets before the park opens. Our partner Undercover Tourist offers great Universal Studios Hollywood ticket deals and you should also check Universal's website to compare.
Be sure to arrive early for your visit to be one of the first through the turnstiles. I suggest arriving at least 15-20 minutes before park opens. We like to arrive 30 minutes just incase there are unexpected delays.
Universal Studios Hollywood is divided into an upper lot and lower lot. The lower lot has some of the most popular attractions and you should plan to visit this area early in your day.
Lower Lot Attractions at Universal Studios Hollywood
Jurassic World
The Mummy
Transformers 3D
Super Mario World (Opening 2023)
Upper Lot Attractions at Universal Studios Hollywood
The Simpsons Ride
World Famous Studio Tour: Featuring King Kong, Fast and the Furious, Jaws, and more
Flight of the Hippogriff
Harry Potter and the Forbidden Journey
Super Silly Fun Land: Splash Playground and Circle Spinning ride
Despicable Me Minion Mayhem
Secret Life of Pets
Kung Fu Panda Theatre
WaterWorld (Show)
Universal's Animal Actors (Show)
Special Effects Show
I was very surprised at the amount of time it took to get from the upper lot to the lower lot. Universal Studios Hollywood is built in the hills of Hollywood. There are numerous escalators to get from the top to the bottom, and back. It takes about 10 minutes but time can vary depending on how busy the park is.
Universal Studios Hollywood is smaller than the Universal Orlando parks but they have attractions that Orlando doesn't have including the Studio Tour. So even though the park footprint is smaller they pack a lot of awesome attractions in.
Universal Studios Hollywood offers a virtual line option for popular attractions at different times/days throughout the year. There is not a stated rule to this. For example on our visit Secret Life of Pets was open at park open and switched to virtual line later in the day. Virtual line reservations can run out and they do not run a stand-by line once they switch.
We rode Secret Life of Pets 3x on our visit and I'll go into details later in this article on how we did it without waiting in long lines.
Universal Studios Hollywood offers early entry into the park with specific attractions open at that time. I was unaware of this when we arrived so I highly suggest asking while you are waiting for the park to open. For our visit early entry was for The Wizarding World of Harry Potter.
We didn't prioritize riding the Harry Potter attractions or spending much time in this area because we have spent so much time during our time in Orlando and to be honest Orlando is superior. Universal Studios Hollywood is the same as Wizarding World-Hogsmeade at Islands of Adventure. If you are planning on doing this area take advantage of early entry or plan to visit early in the morning.
Most popular attractions at Universal Studios Hollywood offer single rider. Take advantage of this if the lines are long. Single rider is a separate line that fills in empty seats. Your party will usually get split up.
Another fun perk is the free first visit buttons you can pick up at customer service at the front of the park. We did this as we exited the park for a fun souvenir. Do not do this first thing in the morning. Save it for once you have done the most popular attractions.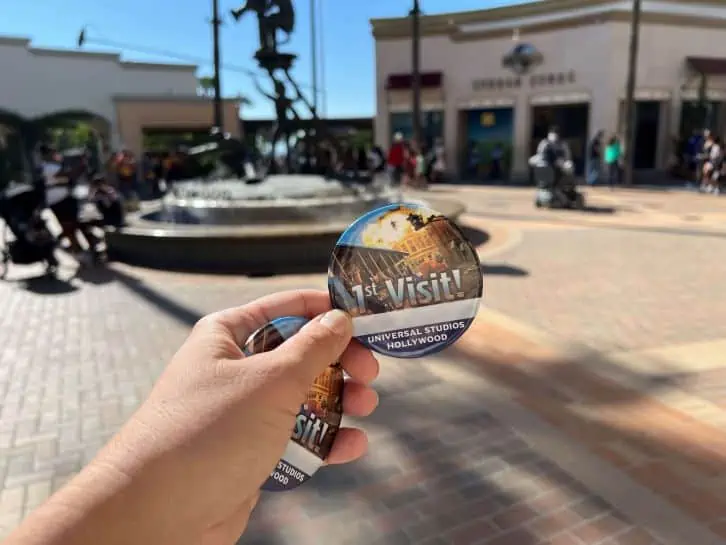 Can't Miss Attractions at Universal Studios Hollywood
The best attractions at Universal Studios Hollywood that I wouldn't miss are:
Jurassic World: The Ride
The Secret Life of Pets
WaterWorld Show
The Studio Tour
Super Mario Land will be the most popular attractions when it opens in early 2023
Where to Stay When Visiting Universal Studios Hollywood
Universal Studios Hollywood does not have on-site resorts like Universal Orlando does. We stayed at the Loews Hollywood Hotel and it was a 5 minute drive to the park. This was part of our 9 Day Southern California Itinerary for Your Theme Park Vacation so be sure to check it out when planning your family vacation.
Universal Studios Hollywood Itinerary for One Day
For our first visit to Universal Studios Hollywood itinerary we decided to skip The Wizarding World and The Simpsons. We did pop into Wizarding World for a Butter Beer but we didn't ride any attractions. They both got busy throughout the day so plan on visiting first thing or closer to close.
7:45am: Left our hotel room. Arrived and parked at Universal by 8:08am.
8:20am: Lined up at the gate for park opening. Park opening was officially 9:00am. Gates opened at 8:25am for early entry.
8:30am: We headed to The Secret Life of Pets to discover it was not opening early. Be sure to ask what will be open and head there. This would be a good time to go to The Wizarding World and then head over to The Secret Life of Pets.
8:30am-8:55am: We used this time to ring the doorbells near the Despicable Me attraction. Minions and other characters will answer. We walked through Super Silly Fun Land too.
8:55am: Walked on The Secret Life of Pets. The line for this attraction is so well done and really awesome. Spend a few minutes enjoying the animatronics and theme before you board the attraction.
9:05am: Started walking to the lower lot. On Jurassic World by 9:15am, the rode The Mummy, and Transformers.
10:00am: Made our way back up to the upper lot for the Studio Tour. This line was held up a bit and we didn't get on until about 10:30am.
11:20am: Virtual Line opened for Secret Life of Pets. Be sure to download and set up the app before you get to the parks. Used the app to secure a 1:10-1:40pm Virtual Pass.
11:30am: Lunch at the Minions Cafe. We really enjoyed the food. I got the pulled pork sandwiches and it was big enough to share. Kids got chicken fingers and mac & cheese. Everyone liked their meals.
12:10pm: Walked over to watch the WaterWorld show. This is in direct sun so be aware when watching during the hottest points of the day. I enjoyed the show a lot. Very fun effects and you can meet the cast after the show.
1:10pm: The Secret Life of Pets Virtual Line pass. The wait was much longer than first thing in the morning. Having a virtual line pass doesn't mean no line. Expect to wait 20+ minutes. After Secret Life of Pets we went to see the Special Effects Show. This was good but may not be great for younger kids.
We also went over to one of the kiosks for virtual line for The Secret Life of Pets and secured another time for 2:50pm-3:20pm. This printed out a paper return time. I am not sure the rules on this or if you could go back and get another one once you use it.
2:18pm: Watched the Kung Fu Panda show. This is a motion simulation attraction.
3:00pm: The Secret Life of Pets. You may not want to ride this 3x if you are trying to get on The Simpsons and The Wizarding World attractions but for us it was worth it. The ride is not at the Orlando parks and it was really cute!
3:25pm: The Wizarding World of Harry Potter walk through and Butterbeer. The line was very long for butterbeer so I used the app to mobile order and it was ready within minutes.
At this point we headed back down to the lower lot. Wait times were high so we decided to single ride The Mummy and Jurassic World. Around 4:30pm we headed back to the upper lot.
Evening Hours at Universal Studios Hollywood
After our second round at the lower lot we decided to call it a day. We stopped at Pink's Hot Dogs at CityWalk on the way out but there are many places to eat if you are looking for a sit-down. We love Antojitos and Margaritaville at Universal Orlando CityWalk and I am sure they are pretty similar.
There is a nightly light show displayed on Hogwarts castle if you would like to stay later in the evening. I also suggest riding favorite attractions or ones you may have missed earlier in the day.
I hope this one day Universal Studios Hollywood itinerary helps plan your day at the Hollywood theme park. It is a great park that offers a lot for families that enjoy the Universal parks.
Pin for Later: