Are you planning a trip to Disneyland? This is our list for the best things to do in Disneyland California during your Disneyland resort vacation.
This post contains affiliate links and sponsored content. All opinions are my own. Learn more here.
We recently returned from a vacation to Disneyland and California Adventure and there was so much that we discovered during our visit that I think are "must-see" things to do in Disneyland.
This was part of our 9 days in Southern California that also included a visit to Universal Studios Hollywood. You can read our full trip report: 9 Day Southern California Itinerary for Your Theme Park Vacation.
For the purpose of this article I am not going to go into details on how to plan your day. If you want more information read our Disneyland Itinerary or California Adventure itinerary.
This list is our picks for the best things to do in Disneyland and California Adventure. These are the rides, attractions, and unique finds that I think add to your Disneyland trip.
If you plan to visit both parks in one day you will need to purchase park hopper tickets. Check here: Disneyland ticket deals.
Best Things to do in Disneyland California
We've included things to do at the Disneyland Resort and Disney's California Adventure theme park. There are also a few fun things to do at Downtown Disney that I have included in our list.
In no particular order these are our picks for the must see and do things at Disneyland California.
Experience the Classic Dark Rides in Fantasyland (Disneyland)
Disneyland park is home to Fantasyland that has many of the classic dark rides that were part of the original Disneyland planning.
I enjoy the classic dark rides that are inspired by beloved Disney characters and think they should be part of every Disneyland visit.
At Disneyland you can ride: Alice in Wonderland, "it's a small world", Mad Tea Party, Mr. Toad's Wild Ride, Peter Pan's Flight, Pinocchio's Daring Journey, and Snow White's Enchanted Wish.
Take time to look at the Window Displays on Main Street U.S.A (Disneyland)
The window displays along Main Street U.S.A. feature Disney characters and are changed seasonally. This is a fun activity to do in the afternoon when ride wait times are long.
Look for the Disney Characters on "it's a small world" (Disneyland)
The Disney characters within the scenes on "it's a small world" are unique to the Disneyland Park. Guests can search for Woody & Jessie, Aladdin, Alice, and many more familiar favorites.
Walk through at Sleeping Beauty Castle (Disneyland)
Located in the back of Sleeping Beauty castle is the entrance to a walk-through attraction. This features a retelling of Sleeping Beauty's story and is a unique attraction than a lot of people may not know about.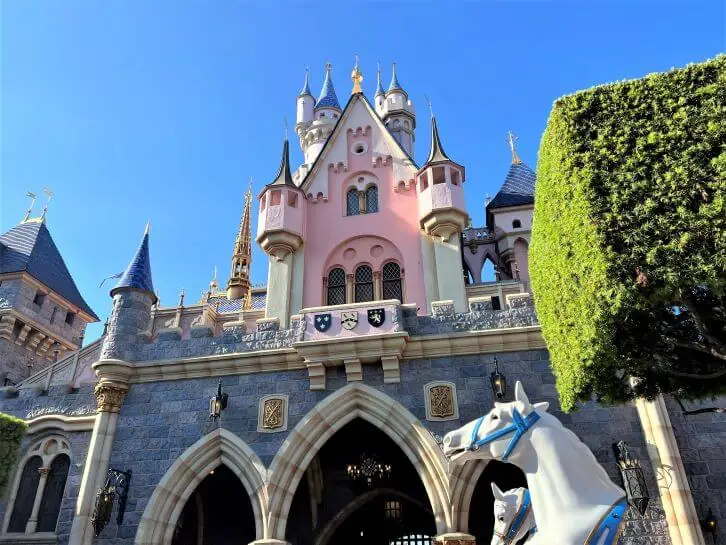 Visit Star Wars: Galaxy's Edge (Disneyland)
Visiting Star Wars: Galaxy's Edge is a must during any visit to Disneyland. With the two main attractions: Rise of the Resistance and Millennium Falcon: Smugglers Run being incredible attractions, the land itself is also worth exploring.
There are character interactions as well as shops and dining to explore in this fully immersive area. Guests can also download the Play Disney Parks app to unlock interactive features within the land.
Visit Star Wars: Galaxy's Edge at Night (Disneyland)
This might not sound like a big difference but visiting Galaxy's Edge at night is a new experience than during the day. It changes the vibe of the land and is worth checking out.
Try to plan it during the fireworks for a really unique viewing spot.
Try a Corn Dog at Corn Dog Castle (California Adventure)
This might seem like an odd one on the list but all five of us liked the corn dog at Corn Dog Castle, it is rare to find something we all like. Mobile order this and try it for yourself.
Take a ride on the Disneyland Railroad (Disneyland)
The Disneyland Railroad circles around the park and has a Grand Canyon and Dinosaur display for guests to see. Guests can also use this to get from different areas of the park.
Take time to Explore Mickey's Toontown (Disneyland)
Mickey's Toontown is located near the back of the park and has attractions as well as play areas for kids to explore. Renovations are set to be complete on this area by March 2023.
Guests will be able to ride Mickey and Minnie's Runaway Railway(opened January 2023), Roger Rabbit's Cartoon Spin, and Chip 'n' Dale's GADGET Coaster. There will also be play areas, character meet and greets, and photo-ops.
Try a Disneyland Churro (Disneyland and California Adventure)
Disneyland is known for it's great snacks and the Disneyland churro is famous for a reason. With numerous churro stands throughout both parks and seasonal churros available this is a can't miss treat.
Enjoy the Roller Coaster and Thrill Ride Attractions (Both Parks)
Often people think the Disneyland parks are only for small children but that is not always true. There are actually a lot of attractions that are thrilling and great for big kids and adults.
Most of these are the most popular attractions at the park so plan on visiting early in your day.
Space Mountain, Big Thunder Mountain, Incredicoaster, and Goofy's Sky School are all a great way to enjoy some thrills at the parks.
There is also Matterhorn Bobsleds, Indiana Jones Adventure, and Guardians of the Galaxy for big thrills. Radiator Springs Racer also has thrills that are great for all ages.
Don't Skip the Rides that Are at Walt Disney World and Disneyland
Even though Walt Disney World has Pirates of the Caribbean, Haunted Mansion, The Many Adventures of Winnie the Pooh, Big Thunder Mountain, and Toy Story Mania! we still like to experience them.
The Pirates of the Caribbean and Big Thunder Mountain are a little different than at the Disney World parks and worth experiencing.
Check out Sorcerer's Workshop (California Adventure)
The Sorcerer's Workshop is the same building that has Animators Academy. It also has a few hands on exhibits as well as Beast's Library for guests to explore.
Try the Mickey Mouse Beignet at Mint Julep in New Orleans Square
One of my favorite things are the Mickey Mouse shaped beignets. These come in orders of 3 or 6 and you can order from the Disneyland App.
Try at Dole Whip at the Tiki Juice Bar
If you have never tried a Dole Whip at a Disney Park you want to head over to the Tiki Juice Bar. You can mobile order and it is a refreshing afternoon treat.
Walk Around Downtown Disney District
Downtown Disney offers shopping, dining and live entertainment. It has one of the biggest World of Disney stores I have ever seen.
Eat at Pym's Kitchen (California Adventure)
We thought Pym's Kitchen was one of the best places to eat! We actually ate there twice on a recent visit. It has fun big and small food themed to Marvel's Ant Man series.
Prioritize the Rides that are Only at Disneyland
If you have limited time to visit or this is your first time at Disneyland be sure to prioritize the rides that you can only find at the California parks.
These would include:
Guardians of the Galaxy: Mission Breakout
Haunted Mansion Holiday(Seasonal)
Radiator Springs Racers
Web Slingers: A Spider-Man Adventure (Although this is at the Disneyland Paris park)
Many of the classic dark ride attractions in Fantasyland
Indiana Jones Adventure
Monsters, Inc. Mike & Sulley to the Rescue!
All of Cars Land
All of Pixar Pier
Participate in the Animators Academy Workshop (Disney's California Adventure)
Taking time out of our day to learn to draw at the Animators Academy Workshop was such a surprise treat. It is a free activity that is led by amazing Disney artists who teach you how to draw popular Disney characters.
There is a times board outside the attractions to see who they are drawing and at what times. We drew Mike Wazowski and Mirabel.
Explore the Redwood Creek Challenge Trail
This area is a large play space for guests to explore. It is also where you can meet characters like Rya and Chip and Dale.
See Cars Land at Night
There is just something special about seeing the lights go on along Cars Land. Everything is a little bit more fun. If you can try riding Radiator Springs Racers at night too.
Free Bread at the Bakery Tour (Disney California Adventure Park)
The Bakery Tour at the Pacific Wharf is a very small walk-through that gives guests a treat of a bread sample at the end. It is nothing fancy but a little free snack.
Purchase a Mickey Bread
If you want a bit more you can purchase a Mickey Mouse shaped bread. This is more than enough to share and is a great snack to take back to your room.
Watch World of Color
World of Color at Disney's California Adventure may be my favorite night shows. It has music and water and lights. It is really beautiful. I can't recommend it enough!
Take photos at the Dr. Strange Area (California Adventure)
There is an area in Avengers Campus where you can meet Dr. Strange. In this area there is a really cool photo-op that makes it appear like you are falling into a hole. It is worth taking a few pictures here.
Meet Characters
Of course you can meet characters at all of the Disney parks, but at Disneyland you will often find characters walking around without a set time. Be on the lookout for these characters and stop to say hello.
The Disney Gallery on Main Street U.S.A. (Disneyland)
The Disney Gallery is an exhibit showcasing different art displays. This changes but currently the exhibit features Disney 100 Years of Wonder.
Great Moments with Mr. Lincoln (Disneyland)
Located next to The Disney Gallery Great Moments with Mr. Lincoln is one of the original animatronics from Walt Disney. This might be a bit boring for very small children but it is a nice place to relax in the afternoon.
Pirates Lair on Tom Sawyer Island (Disneyland)
This area is accessible by boat and is an explorers playground. Guests can explore the island and kids can burn off some energy.
Use the Disneyland App
This is more a tip than a must do but I highly suggest using the Disneyland App. This will allow you to Mobile order, check the app for long lines and wait times, and purchase Genie+ or lightning lane.
You can also view a map of the park, check parade and show times, and make dining reservations.
Plan a Visit During the Special Events
There are numerous events that happen at the Disneyland parks. If you are visiting during Halloween or the holidays expect big crowds and ticketed special events. Learn more here.
Ride Guardians of the Galaxy More Than Once
Finally if you can we recommend riding Guardians of the Galaxy: Mission Breakout multiple times. This ride is so much fun and has a different soundtrack for different rides.
We rode 6 times on our last visit and crazily only had 2 different songs. 5 times we heard "Burning Love" and the final ride we had "Hit Me With Your Best Shot". This ride is so much fun!
Each visit to Disneyland will be unique and they are always adding new rides and attractions. This list should help you plan the best things to do in Disneyland to include for your next visit.
Pin for Later: