How do you do Universal on a budget? Today we are sharing our saving tips for your next Universal Orlando trip.
Universal Orlando Resort includes Universal Studios Florida, Islands of Adventure, Volcano Bay water park, and Universal CityWalk. It is not part of the Walt Disney World resort.
The Universal Orlando resort is home to The Wizarding World of Harry Potter (Diagon Alley & Hogsmeade), Jurassic Park franchise, Minion Land, and Seuss Landing.
It is a great place to visit but theme park vacations can be expensive!
We have been visiting the theme parks for over a decade with a family of five and we always look for the cheapest way to visit, so we can visit more often.
There are my tips for planning theme park vacations to Universal Orlando on a budget.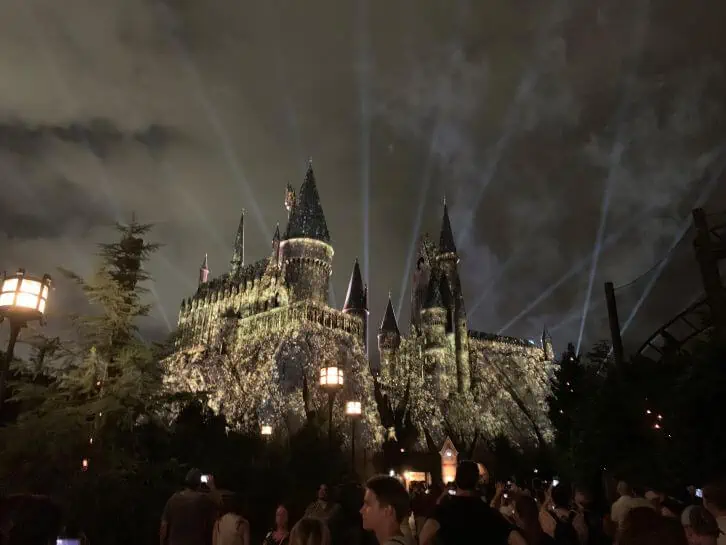 What are the Overall Costs for a Universal Orlando Trip
When planning a Universal Orlando vacation there are five main categories where you can save money for your trip.
I find these to be valued differently depending on your family priorities and what type of theme park trip you want to have.
The basic costs of a Universal vacation are:
Tickets Prices
Accommodations/Hotel Room
Transportation Costs
Food/Dining
Souvenirs/Gifts/Extra Cost
Some families may value sit down meals over souvenirs, others may prefer to stay at a premier resort over a value.
I'm going to share the ways we save on our Universal vacation, and hope it helps you plan your budget for Universal Orlando.
How to Do Universal on a Budget
Lets breakdown the costs for the trip to Universal to help you get started.
One of the biggest costs for our family of five are the ticket costs. Then it is transportation or accommodations, and then dining and souvenirs.
We decide before we arrive at the parks what our budget for the Universal trip is, and then we plan based on those numbers.
How to Save on Universal Studios Orlando Tickets
Tickets are expensive for theme parks and can be over $100.00 a day. If you add park to park tickets or express passes your daily price goes up even more.
You can shop around for tickets to find your best price. I suggest starting with Universal Orlando Resort website. These prices will show you any deals they are offering and will give you a base line price.
Universal on a Budget: Purchase an Annual Pass
Another option that we have found to save us a lot of money is to purchase an annual pass. This may not make sense at first, especially since we live in New York state, but it most recently saved us over $1000.00 on our next trip.
For a family of 5 with kids ages 13, 10, and 9 a 5 day park to park ticket cost $1900.00. This would allow us to go between Universal Studios and Islands of Adventure for 5 days.
I decided to look at the annual pass options to compare prices. For the five of us an annual pass cost $1624.10. This includes unlimited visits to Universal Studios and Islands of Adventure for 12 months.
Passholders also receive deep discounts on the Universal Orlando on-site resorts. We saved over 45% per night and were able to upgrade to a Premier resort for our trip.
There are different tiers of passes and we purchase the most inexpensive one, the seasonal pass.
There are blackout dates for this pass but because we live far away we know the dates we will visit and plan accordingly.
Annual passes at Universal are worth it if you know you are going to visit 5+ days in a calendar year. It may not be for everyone but we really enjoy the savings and the perks of having an annual pass.
Universal on a Budget: Visit During the Off-Season
Visiting during the off-season will save you money on flight and car rentals as well as accommodations.
Resorts can offer deep discount on hotel rooms during the off-season when they are trying to fill rooms, which makes it one of the best time to visit.
The off-season is during school months. September and January are some of the quietest. The exception to this is during special events at Universal like Halloween Horror nights.
If you are visiting during peak season and spring break expect prices to be higher.
The same goes for flights and car rentals. If there is availability there will be discounts.
The off-season is typically when kids are in school. Late August-end of September and January-February before winter breaks starts.
Universal Orlando Accommodations
I always start with Universal's website for deals on their on-site resorts. We have stayed at the value resorts, prime value, and premier.
It is a good idea to price out the different Universal hotels to see which is best for your budget.
Check out the reviews for each of our stays:
There are perks to staying on-site at Universal. All hotels include early entry which allows on-site guests early park admission an hour before park open.
The premier hotels include express pass. If you are planning on purchasing express pass as an add-on you will save so much money (usually) by booking a hotel that includes it.
Transportation Needs When Visiting Universal Orlando
The best ways to decide if you need a car rental is to decide if you are going to stay at the Universal resort or explore other areas of Orlando.
You will need transportation to/from airport unless you drive yourself to the parks. The airport does offer paid shuttle buses through Mears.
We have used their car service and been happy with the service.
If you stay off-site be prepared to pay for daily parking and resort fees. These can range to different costs. Always contact your resort for the most up-to-date parking information.
Parking at the Universal Orlando resort is $30.00.
If you are staying on-site parking ranges from $15.00-$28.00 a night. There is a free shuttle to and from the resorts and theme parks.
Be sure to include these prices in your budget. We usually rent a car and include parking fees in the trip, but it might make sense for you take a ride share, taxi, or shuttle to the resort.
Universal on a Budget: Share Meals
This lesson has taken us a few visits to master but when purchasing meals in the park share when you can.
Meals are often big enough to share and can be split between an adult and a child or two adults.
I will often split a sandwich with my kids and then purchase a small snack later in the day if we are hungry. I also find myself not wanting to eat huge meals during park days because of all the rides and the heat.
We also bring a reusable water bottle to avoid the pricey costs of drinks for a family of five.
We don't do this at every meal but if does help save some money on meals. We also plan more quick/counter service meals than sit down meals.
This will save you money and time when visiting the theme parks.
For breakfast we eat our meals in the room. This usually consists of a breakfast bar or dried cereal.
I will bring it from home, stop at a grocery store to do grocery shopping on our way to the resort, or order instacart to the resort.
These food saving tips may not work for everyone but deciding on what meals are a priority and what meals you can save on will help you stay on budget for your trip.
Don't Buy What You Can Bring from Home
Everything cost more at the theme parks. If you know you will need something purchase it at home and bring it with you.
We purchase character t-shirts, ponchos, sunscreen, and everything you need for our trip before we arrive at the parks.
Of course you can pick something up at the parks but you will spend more money that if you purchased it before.
The last thing is souvenirs. Some people prefer to purchase during vacation because that is the point of a souvenir. Others feel it is a waste of money at the parks.
This is a personal decision. I have given the kids a set amount of vacation money on some trips and we have visited without buying anything. It depends on the trip.
Be sure to think about how you feel about souvenirs before you find yourself in the middle of a gift shop! It will save you stress and everyone will know the expectations ahead of time.
How Much Does Universal Orlando Cost
Most people want to know where they should even start with a budget. What does a Universal Orlando vacation cost?
Based on what I shared above you can see it can vary greatly depending on your needs and priorities.
I try to keep the trip to around $5000.00 and under. I have listed the breakdown of costs below:
Annual Pass for Family of 5: $1624.10
Hotels: $1462.00 (2 Nights in Premier/5 Nights in Value, includes parking)
Food: $150.00/day
Transportation : $600.00 (Driving from NY to FL, gas and 2 nights in hotel)
**These prices were from May 2021. Annual Pass prices have gone up and may not be beneficial. Always research and compare prices when planning a trip. Expect that costs for 2023-2024 will be closer to $6000.00+ depending on the time of year you visit.
We could have stayed all nights in a value resort and saved even more but we decided to splurge on the hotel to have express passes for our first few days at the parks.
This budget also allows our next trip to Universal to be less because tickets are already purchased.
Doing Universal on a budget is possible if you break down all the costs and decide what your priorities are!
We send updates on our latest destination and theme park posts so you never miss a thing and can start planning your next family adventure. We know you are busy and only share the best! Sign up for Five for the Road Newsletters!