White Sands National Park is an incredible park that everyone should visit once in their life. This guide will help you plan your visit with tips for visiting White Sands National Park with kids.
White Sands National Park has been on my family bucket list for a few years. In early 2019 we had an opportunity to visit and it was breathtaking.
I've lived on the eastern United States and nothing prepared me for what what I would see when I visited the Southwest US. I had done a quick travel conference late in 2018 and I knew I wanted to take a trip with the family.
In early 2019 we started planning a epic road trip that had us starting in New Mexico and making our way to the California coast. Read that Post-> 9 Day Epic Southwest Road Trip for Families.
Part of the planning had us figuring out how we would visit White Sands National Park. I had seen pictures during my travel conference and I really wanted to make it happen.
We ended up starting in New Mexico to visit White Sands on our first travel day.
It was a lot of logistic work and I wish we would have flown into El Paso as opposed to Albuquerque, but it was totally worth it to see the sunset on the dunes.
Overview of White Sands National Park with Kids
White Sands National Park in New Mexico is a desert of gypsum sand that is the worlds largest gypsum dune field and is open to the public to explore and enjoy.
With hiking trails, driving tours, and park ranger led tours there is so much to do. The highlight of our trip is the sledding on the sand dunes. It is perfect for families with kids of all ages and we all loved it.
When you arrive at White Sands National Monument I suggest stopping at the gift shop to pick up anything you may need and use the restroom. It cost $25.00 per car to enter the park. Current pricing can be found here.
If you have a 4th grader in your family check out Every Kids Outdoors which offers free admission to National Parks for families. We used this at our visit to Zion National Park.
Where is White Sands National Park
Depending on where you are coming from you will need to drive in to see the park. If you are flying the closest large airport is El Paso, Texas.
We flew into Albuquerque because of the flight cost. From there we made the drive to White Sands. I don't recommend this because it is a long drive and I wish we would have given ourselves more time.
If we visited again I would have stayed the night in Alamogordo or flown into El Paso.
From Alamogordo, NM: 15 minutes drive time
From Las Cruces, NM: About 1 hour drive time
From El Paso, TX: About 1.5 Hours drive time
From Albuequere, NM: About 3 hours and 28 Minutes
If you are putting this into your GPS be sure to type White Sands National Park. If you type in White Sands you may be sent to the Missile Range which is about 20 minutes away.
Best Time to Visit White Sands National Park
Any time of year can be enjoyable for a visit, but because this is the desert the temperatures can be very high in the summer months and the weather can change quickly.
We visited in early March and I thought it was the perfect time. The weather was cool and we were comfortable with pants and sweatshirts. Evenings are also much cooler than midday.
What to Bring on Your Visit to White Sands National Park
You do not need to bring many things when visiting White Sands National Park but a few things are helpful when visiting the park with young kids.
We pack hats and sunglasses, sunscreen, snacks and reusable water bottles. There is no need to pack a lot unless you will be going on a long hike. We kept items in our car and it was close by.
There is one thing you may want to bring and that is a sled. We didn't pack one and purchased it at the gift shop but if you have can bring one from home you will save money.
White Sands National Park Sledding
Sledding at White Sands National Park is the main attraction for families. It is so much fun and unique!
We all loved it so much. Coming from the snow, it was a fun change to sled on the sand.
Like I said earlier we didn't pack our sleds. I didn't want to worry about carrying them through the airport for a few hours of use.
We knew we would have to purchase them at the gift shop. We also could have stopped at a dollar store or walmart on the way but timing didn't allow for this.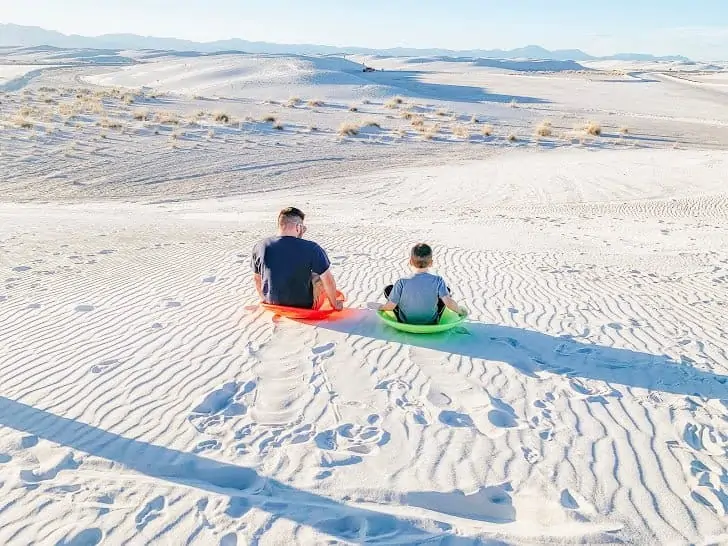 If you have time you can save money by purchasing your sleds ahead of your visit. As I am writing this the sleds cost $18.99 and they will buy them back for $5.00.
They sell used sleds for $10.00 and buy those back for $3.00. It is not guaranteed that they will have any used sleds.
The gift shop also closes before the park closes. We arrived about 15 minutes before close and they didn't have any used sleds available, and we would not be able to sell back because they would be closed. Keep this mind when planning your visit.
One of the things I recommend doing is passing your sleds on to another family. We saw a family driving around that didn't have sleds, probably because the shop was closed, and we passed our sleds on.
I will never forget the kids faces when they saw they could go sledding and our kids learned a lesson in kindness too.
As you enter the park and begin to drive around you will see the dunes get larger and soon you are surrounded by them. There is no designated sled area, they only recommend you sled away from the road.
We drove for a few minutes and then found a perfect spot.
I was surprised by a few things during our visit. First the sand was cold! Because of the white color it reflects the sun and we could run around without shoes.
Second, it was not easy to walk up the hills! The sand wasn't very easy to climb and small children may need help.
Also be prepared for a lot of sand to be in your car. Being a rental for us I did my best to shake out the sand before we left for the evening. It was really no use though because sand was everywhere on us!
This is the highlight of the visit for us. Sledding while the sun set on the desert dunes and the stars began to come out was the most magical moment and it is something I will never forget.
Take a Drive Around the White Sand Dunes
The dunes drive is around an eight mile scenic drive one way. Round-trip the drive will take you around 45 minutes without stops along this 16 mile trip. Along the route you will find hiking trails, picnic areas, sledding spots, and vault toilets.
Part of the route is paved and part is packed gypsum sand road. It is accessible for all types of vehicles.
Hiking with Kids at White Sands National Park
Being on a time restraint during our visit we didn't get to do any of the hikes but there are two that I think would be great when visiting with kids.
The Interdune Boadwalk is a elevated boardwalk that lead you through a scenic view of the dunefield and the Sacramento mountains.
You will pass 10 outdoor exhibits along the way that will teach you about the wildlife in the dunes. The walk is .4 mile round trip and is easy for most families.
This is also wheelchair accessible and offers a seated area half through the hike.
The Sunset Stroll is a ranger-guided tour through the dunes at sunset. It offers gorgeous views and you will learn more about the geology and wildlife in the park.
These are help daily one hour before sunset and you do not need a reservation. Meet at the sunset stroll parking area sign about 5 miles in from the entrance.
Learn more about what time sunset is during your visit here.
White Sands National Park Gift Shop
The visitors center was our first stop during our visit. There is a restroom and a small gift shop. At the gift shop we picked up our sleds, wax for the sled, and used the restrooms.
You can also learn more about the park with a orientation film called A Land in Motion. If you are planning on doing this be sure to give yourself time to also see the park.
You can also stop in the visitors center to receive a Junior Rangers book. They offer free books to children of all ages. You can print the booklets at home or receive them when you arrive.
There are also interactive exhibits at the White Sands visitors center that will teach you about the geology and history of the park. The Native Plant Garden located at the from of the visitors center has an audio walking tour.
There are also historic artistic touches throughout the center.
12 Things to Know When Visiting White Sands National Park with Kids
The park closes at dusk. Plan your visit around opening and closing to make sure you have enough time to enjoy the park.
Check the website to see if the park is open for the day. The park closes periodically for missile testing. Check the website before your visit.
If you are driving in for your visit consider bringing your own sleds. The sleds at the gift shop are more expensive than the local walmart.
Pack hats, sunscreen, and sunglasses to protect yourself from the elements.
Bring snacks and water if you plan on hiking and staying for a long period of time.
The sand is cool. Let the kids run around barefoot in the sand.
Try to time your visit to see the sunset. It was the most amazing thing I have ever seen.
Watch for wildlife as you explore. We visited in early spring and it was chilly but depending on the time of year you visit you may see snakes or other critters. Be safe.
You can camp, but it is backcountry camping and they don't have an official campground.
Your internet connection will not work well once you drive into the park. GPS will be spotty. Use this time to disconnect and take in the beauty of White Sands.
Make sure you take a few pictures. You will want to look back on these. It is truly a stunning place to visit.
Be sure to fill your car gas tank before you arrive at the park. The nearest gas station is in Alamogordo, 13 miles away.
Watch our White Sands National Monument Vlog
Visiting White Sands National Park in New Mexico should be on everyone's must see list for unique locations in the United States. Taking kids to the White Sands National Park was one of our favorite travel memories and was something we will never forget.