You visit Disney World for the parks, but there are many things to do at Disney World besides the parks that are worth adding to your Disney World vacation. This is our list of family favorites for a non-park day at Disney World.
This post may contain affiliate links.
Walt Disney World is famous for the theme parks. Each one is unique and worth a visit during your Disney vacation, but they can be exhausting.
One of my best tips is to plan a rest day at Walt Disney World. This allows you to explore the Walt Disney World resort activities at your resort, sleep in, and spend time by the pool.
By skipping the parks you will still find Disney fun everywhere. With so many Disney World activities to choose from, a rest day at Disney World can be filled with relaxation and a lot of Disney magic.
Tickets & Discounts: I always recommend shopping for the best travel deals when planning a trip! This takes time but can help you SAVE! Our favorite places to check: Theme park tickets and hotels check out Undercover Tourist and Get Away Today. Theme park and attractions check out CityPass. Hotels and other travel needs check out TripAdvisor and Bookings.com. Always compare prices because they often have specials and deals during the year.
Why Plan a Non Park Day at Disney World
A non park day gives you a chance to move at a slower pace and recharge after a full day at the parks. Planning a rest day at Walt Disney World doesn't mean there is nothing to do. You could spend a full week enjoying the Disney World activities outside the theme parks.
Now that you have a rest day planned into your Disney World itinerary you need to decide what you would like to do. Your rest day should be planned based on your what your family likes to do.
Be sure to check the activity website before you visit because some attractions are temporarily closed.
25 Fun Things to Do at Disney World Besides the Parks
1. Explore the Art of Animation Resort
Disney's Art of Animation is themed to Disney's animated movies Finding Nemo, The Little Mermaid, The Lion King, and Cars. There is a Nemo playground and this resort is really fun to explore.
We love walking around and taking advantage of the fun photo-ops at the resort. Read our full review of Art of Animation to see more pictures from our visit.
2. Spend Time at the Resort Pool
My kids love spending time at the resort pool. This is a Disney World activity that takes no planning at all! The moment we arrive at a Disney Resort the kids ask to go in the pool.
Visiting the pool gives the kids an opportunity to get their energy out. They can play freely and this is really important for most kids.
Walt Disney World resorts have some really amazing pools and it is worth making time to visit the pool at your resort. (Walt Disney World does not allow pool hopping. You are only permitted to use the pools at the resort you are staying at.)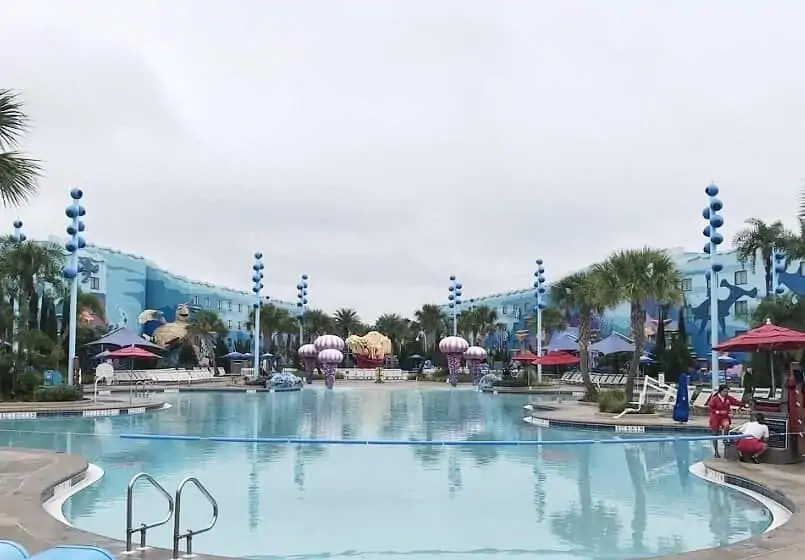 3. Visit the Animal Kingdom Lodge Resort
Animal Kingdom Lodge is a great resort to explore, even if you are not staying there. It overlooks a Savannah and you may get to see giraffe's or zebras. They also have a great theme throughout the resort and a small playground for kids.
4. Ride Disney's Monorail Resort Loop
The Monorail Resort Loop is a fun way to explore different resorts and ride the monorail. The resort loop goes from the Magic Kingdom, the Contemporary Resort, Transportation and Ticket Center (TTC), Polynesian Resort, The Grand Floridian, and then back to the Magic Kingdom.
This is a free service and you can get on and off as much as you would like.
5. Make Character Dining Reservations at a Resort
Typically I don't like to make dining reservations during park days because I want to maximize my time at the parks. Using a rest day at Walt Disney World is a great time to make reservations to meet your favorite characters.
On our last visit we booked a late breakfast at 'Ohana. I booked it later so we could sleep in and it covered lunch. When booking consider the time it takes to arrive at the resort. I usually give myself about an hour from resort to restaurant, depending on where I am staying.
We also recently had brunch at The Grand Floridian for the 1900 Park Fare Breakfast. This has become one of our favorite character breakfasts and we loved meeting the Mad Hatter and Alice!
6. Enjoy the Day Shopping at Disney Springs
Disney has some serious shopping in the parks, at your resort, and at Disney Springs. Check out our article about best things to do at Disney Springs.
The Disney Style Store has some unique and fun Disney items and this fun tea cup photo-op. Disney Springs also has a Marvel store, LEGO Store, and the World of Disney store.
7. Play Mini-Golf
One of our favorite Disney World activities is mini-golf. Walt Disney World has two Mini-Golf courses. Disney's Fantasia Gardens is themed to Fantasia and is located in the Epcot Resort Area.
Disney's Winter Summerland is a fun take on bringing the winter to Florida and is located near Blizzard Beach Waterpark. Both mini-golf courses are open year round and are a fun activity for a rest day at Walt Disney World.
8. Daily Resort Activities
Each resort has activities unique to the resort. During our stay we have done dance contest, trivia games, challenges, and made tie-dyes. It is really fun for the kids and adults to get involved. When you check-in you will receive your Disney World activity schedule for the week at your resort. Use this to guide plan your rest day.
9. Watch a Movie Under the Stars
Another activity to look for on your weekly activity schedule is the Movies Under the Stars. At each resort they have a Disney movie playing outside.
10. Electrical Water Pageant Parade
This is one that you don't have to plan too much if you are in the right place! The parade runs nightly on Seven Seas Lagoon. The best place to see it is outside the Magic Kingdom or at one of the resorts that surround the lake. It starts at the Polynesian Resort every evening. We have always caught pieces of it as we exit the Magic Kingdom and it is a magical end to our evening.
11. Chip 'n' Dales Campfire Sing-A-Long
Chip n Dale's Campfire Sing-A-Long at The Campsites at Fort Wilderness Lodge is a family fun way to end the evening. Purchase a S'mores kit and roast marshmallows and sing songs with Chip n' Dale. This free activity is offered to all guests and even visitors to the resort can attend. Other Walt Disney World resorts have campfires but Chip n' Dale are only at the campsites.
12. Eat at Chicken Guy at Disney Springs
This has become our latest favorite quick service place to eat on a day off. Chicken Guy is located at Disney Springs. Everyone likes the chicken fingers and it comes with dozens of sauce options. I am a big fan of the honey mustard and my husband likes the Nashville Hot Honey.
13. Go Bowling at Splittsville
Splittsville is a fun bowling alley located at Disney Springs. It has a restaurant and everything you need for a family afternoon of bowling.
14. Visit ESPN Sports Complex
ESPN Sports complex is something you might not think of visiting when it comes to your Disney vacation, but if you have a sports fan in your house it is worth the visit.
ESPN hosts many youth sports teams from around the world and is a neat place to visit. Ticket prices vary depending on the event. Learn more in this article about What You Need to Know to Visit ESPN Wide World of Sports at Disney.
15. Cirque du Soleil at Disney Springs
Cirue du Soleil Drawn to Life is a brand new show coming to Disney Springs based on Disney classics. Drawn to Life will be a great family friendly addition to the Disney Springs entertainment.
16. See the Geyser at Disney's Wilderness Lodge
Disney's Wilderness Lodge Resort is a beautiful resort to explore. Guests can take the boat or drive to visit this gorgeous property. Eat at Geyser Bar & Grill and watch the Fire Rock Geyser eruption. This resorts nature trails and relax atmosphere make it a great place to visit on a non-park day at Disney.
There is also a character dining experience called Story Book Dining at Wilderness Point with Snow White and the Evil Queen.
17. Visit the Coca-Cola Store at Disney Springs
The Coca-Cola store at Disney Springs has a rooftop beverage bar where guests can try different tasting experiences. Guests can try beverages from around the world or create their own tasting experience.
18. Ride Disney Skyliner
The Disney Skyliner is a transportation system at the Walt Disney World resort. It takes guests from multiple hotels to Hollywood Studios and Epcot. During our stay at Disney's Riviera Resort we had an opportunity to experience it.
If you are afraid of heights you may not like it, but it was a very efficient way to get from the resorts to the parks. It is much faster than the bus transportation. There is also a Disney Skyliner Scavenger Hunt that runs on certain days during the week.
Check in at the front desk of your resort to learn more about it. The Skyliner runs from Pop Century, Art of Animation, Riviera Resort, Caribbean Beach Resort, and Epcot and Hollywood Studios.
19. Try a VR Experience
Disney Springs has replaced the NBA Experience with a Star Wars: Galaxy's Edge VR Experience. This is a new experience for guests 13 and up.
20. Take a Ferry Ride
There are many ways to go on a boat ride at Walt Disney World. You can take a boat to the Magic Kingdom resorts from the Magic Kingdom or take the boat from Disney Springs to Port Orleans resort. The boat is open to all guests and is a different way to see Disney World.
21. Go Fishing
Disney World is surrounded by water. There are lakes all over the area and you can sign up to go fishing at different resorts. Learn more here.
22. Walk the Boardwalk
Disney World has a Boardwalk in the Epcot area that has restaurants and is a beautiful place to spend an evening. There are also arcade games and entertainment available. Learn more here.
23. Visit Sprinkles for the Cupcake ATM
A cupcake ATM machine is a pretty unique experience and you can find it at Disney Springs. This is a fun way to pick up an after dinner dessert or a mid-morning snack!
24. Tri-Circle D Ranch at Disney's Fort Wilderness Resort
Guests can go on wagon rides, pony rides, and explore trails at Disney's Fort Wilderness Resort. Currently Tri-Circle D Ranch is closed for refurbishments but will be opening in 2020.
A rest day can be a great addition to a week at Walt Disney World. Spending a week at the resorts gives you the opportunity to enjoy the theme parks, but also all the things to do at Disney World besides the parks.
25. Gideon's Bakehouse at Disney Springs
Gideon's is a unique bake shop that serves huge cookies and cakes that are really good. So good that there is usually a very long wait to get it and guests have to join a virtual que to enter the shop. If you want to stop by I suggest visiting around opening and add your name to the list. Then you can enjoy Disney Springs while you wait.
Guests visiting Disney World can find many fun things to do outside of the Disney parks. We love planning a day off during our Disney vacation to check out the activities outside the park.
Subscribe to my mailing list and receive a Vacation Planning Itinerary Worksheet to help you plan your next family vacation.
Pin for Later